Akagera National Park
Akagera lies on the eastern border of Rwanda, making it easy to visit and admire the wildlife – from lion to rhino – that now calls this beautiful savannah and wetland home.
About Akagera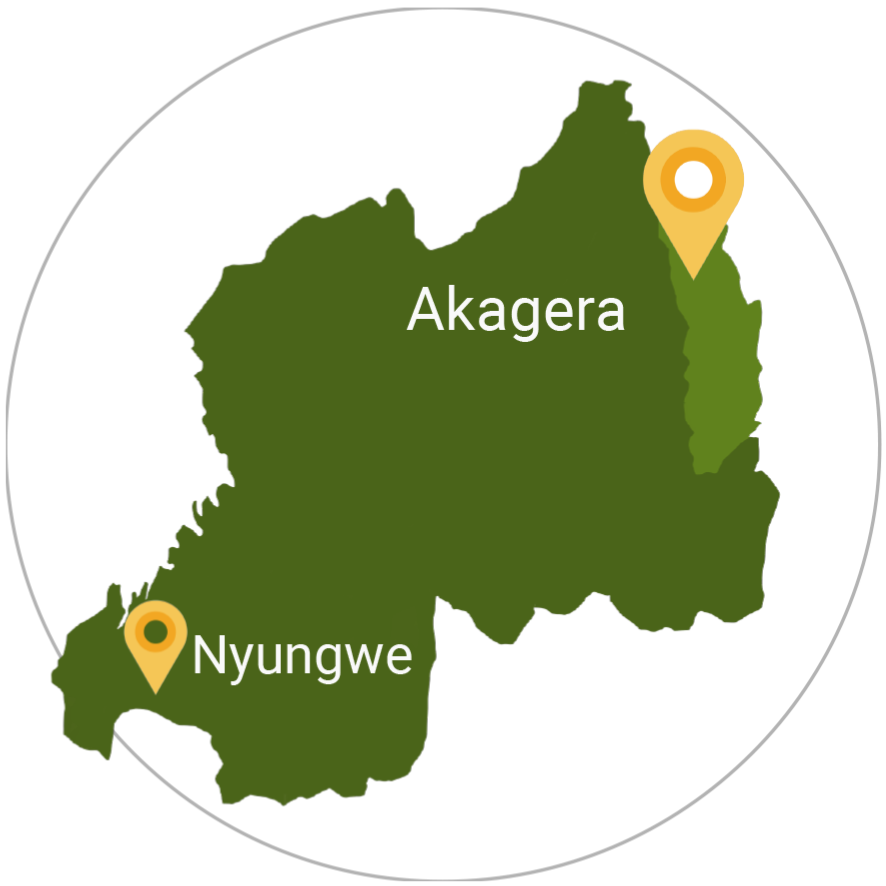 Widely considered to be one of the most scenic parks in central-eastern Africa, Akagera's extraordinary biodiversity ranges from impressive herds of herbivores that graze the open plains to rare and elusive birds that frequent the swamps. Following lion and rhino reintroductions, Akagera now boasts thriving populations of these, as well as elephant, buffalo, zebra, giraffe and leopard, while the waterways teem with hippo and enormous crocodiles.
Akagera comprises a spectacular open expanse of wilderness and wetlands and lakes – in fact, a third of the 1,200 km² Park is dominated by water, making it the largest protected wetland in eastern-central Africa. Birders can seek out several Lake Victoria-endemic species including the red-faced barbet and papyrus gonolek.
Where We Are
Akagera is located two hours' drive (110km) from Kigali, in Rwanda's Eastern Province, on the Tanzanian border.
Getting Here
Self-drive access is through the Southern entrance and Mutumba Gate. They are the main points of access to the park. Also accessible by scheduled or charter helicopter. 4×4 vehicles recommended in the wet season.
The Weather
Akagera has an extremely pleasant climate, temperatures remaining consistently warm in the day and cool at night year-round. Best time to visit is November to April. Learn more about the weather here
Wildlife Returns
Thanks to reintroductions of lion (2015), eastern black rhino (2017) and southern white rhino (2021), and good management, wildlife in Akagera is thriving.
Where to Stay
Visiting Akagera National Park is one of the best ways to support communities, wildlife conservation and the long-term success of Africa's wild areas. Choose from the different accommodation options available below and enjoy a spectacular wildlife experience.
Ruzizi Tented Lodge
A tented eco-lodge overlooking Lake Ihema, the largest lake in Akagera National Park, Ruzizi Tented Lodge is perfectly poised to explore the park's southern sector by foot, boat or vehicle. *Akagera-managed Facility
Karenge Bush Camp
Set on a ridge overlooking Akagera's wildlife-rich northern plains, Karenge's incredibly scenic location in the remote north adds depth to any visit to the park. *Akagera-managed Facility
Akagera Campsites
Four campsites offer basic facilities for overnight stays. Muyumbu and Shakani campsites are in the south, Mutumba Campsite is more central, and Mihindi Campsite is located near Lake Mahindi in the northern sector. *Akagera-managed Facility
Wilderness Magashi
Intimate Magashi is set on the shores of Lake Rwanyakazinga – home to one of Africa's highest hippo densities, large crocodiles, and (hidden within its wetlands) the secretive sitatunga and shoebill stork.
Mantis Akagera Game Lodge
Akagera Game Lodge stands on a hill at the southern tip of Akagera National Park elevated above the savannah, offering a bird's-eye view and exceptional views of Lake Ihema.
Experience Akagera
Akagera is a convenient and beautiful park to visit. It can be a short getaway for those living in Rwanda, a fascinating combination with Nyungwe National Park, or an easy add-on before or after visiting the gorillas.
Despite being relatively small, Akagera is home to an impressive array of wildlife. Since 2010, when African Parks was invited to manage the park, wildlife numbers have rebounded dramatically.
Akagera remains a relatively undiscovered gem, so enjoy excellent wildlife sightings without the crowds.
*All activities are located in the south of the Park.
Our Partners
MANAGEMENT
MAJOR FUNDERS